Sicily '43 Gold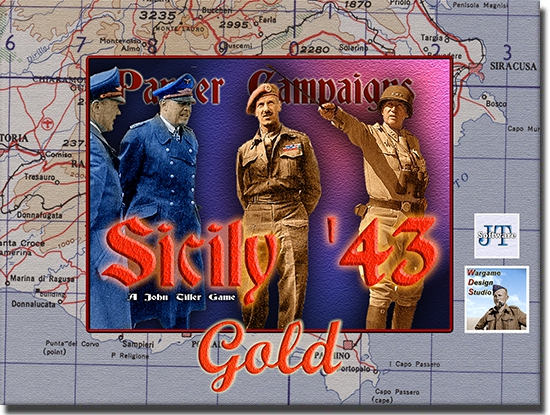 Overview
By July 1943, the tides of war had turned on the Germans. Tunsia fell in May leaving no Axis territory in North Africa. On July 5th, they launched their last great offensive on the Russian Front at Kursk and were nearing their "highwater mark" when the Allies struck at the "soft underbelly" of Europe by invading Sicily. The Invading American and British forces took 38 days to capture the island due to skillful defense and fighting withdrawal in some of the most difficult terrain in the war prompting one author, Carlo D'Este to call this battle a "Bitter Victory". Can you capture the island faster? Should the Allies have opted to have Patton invade western Sicily instead of covering Monty's flank? Find out with Sicily '43.
Click to Enlarge
Scenarios
26 historically based scenarios including several "what-if" scenarios.
Several grand historical scenarios.
The complete campaign is a scenario lasting 351 turns.
Click to Enlarge
Features
Game features include:
Game scale is 1 hex = 1 km, 1 turn = 2 hours, with battalion and company size units.
Order-of-Battle and Scenario Editors which allow players to customize the game.
Sub-map feature allows the main map to be "chopped" up into smaller segments for custom scenario creation.
Multiple play options including play against the computer AI, Play by E-mail (PBEM), LAN & Internet "live" play, and two player hot seat.
New Gold features include:
An additional 25 new scenarios. All are from the Ed 'Volcano Man' William's Alternate mod making 51 in total. These include both historical and hypothetical scenarios.
All new game graphics including terrain, in game counters and 2D & 3D units as well as the toolbar icons.
All new sounds.
Game enhancements include revised disruption movement and reinforcement 'place all' function from the First World War Campaign series.
Click to Enlarge
File Previews
Here are some files from the game:
Credits
Scenario Design: Glenn Saunders and Dave Blackburn
Additional Research: Robert Mayer
Playtesters: Panzergruppe Saunders
Gold Release: David Freer with Wargame Design Studio
System Requirements
Windows Vista, 7, 8, or 10
Processor: 1 GHz
Disk Space: 1 GB
Memory: 1 GB
This wargame is for sale at The John Tiller Software Store