Salerno '43 Gold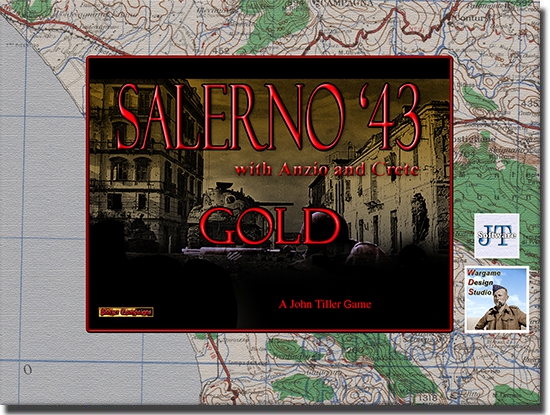 Overview
Salerno '43 - The invasion of Salerno in September 1943 and Anzio in January 1944 were two very different operations. At Salerno the US and British troops ran into a stubborn enemy determine to throw them back into the sea. So, five months later at Anzio, they acted with caution, building up their force before moving inland - but the delay allowed the Germans to pocket them into the beachhead - one that proved difficult and costly to break out of. In this Panzer Campaign title you can try your hand in command of both of these critical Allied amphibious operations that lead up to Normandy. As a bonus you can also play the German Air Assault on Crete in 1941 to round out the action in the Mediterranean.
Click to Enlarge
Scenarios
Covers the amphibious landing at Salerno as well as Anzio and the invasion of Crete.
A total of 26 scenarios.
1 introductory scenario.
7 Crete scenarios – The campaign game is 90 turns. Crete includes some "What Ifs" with variable drop zones.
9 Salerno scenarios – The campaign game is 80 turns.
Includes three Master Maps: Crete - Island and Sea (310x100), Anzio - Coastal Area (50x56), and Salerno - Coastal Area (96x55).
Click to Enlarge
Features
Game features include:
Game scale is 1 hex = 1 km, 1 turn = 2 hours, with battalion and company size units.
Order-of-Battle and Scenario Editors which allow players to customize the game.
Sub-map feature allows the main map to be "chopped" up into smaller segments for custom scenario creation.
Multiple play options including play against the computer AI, Play by E-mail (PBEM), LAN & Internet "live" play, and two player hot seat.
New Gold features include:
An additional 26 new scenarios. 25 are from the Ed 'Volcano Man' William's Alternate mod and a brand new deeply researched campaign game by César 'Indragnir' Librán Moreno making 53 in total. These include both historical and hypothetical scenarios.
All new game graphics including terrain, in game counters and 2D & 3D units as well as the toolbar icons.
All new sounds.
Game enhancements include revised disruption movement and reinforcement 'place all' function from the First World War Campaign series.
Click to Enlarge
Credits
Scenario Design: Glenn Saunders, Jim Dunnam, and Dave Blackburn
Additional Graphics, Getting Started: Adam Parker
Playtesters: Panzergruppe Saunders
Gold Release: David Freer with Wargame Design Studio
System Requirements
Windows Vista, 7, 8, or 10
Processor: 1 GHz
Disk Space: 1 GB
Memory: 1 GB
This wargame is for sale at The John Tiller Software Store