El Alamein '42 Gold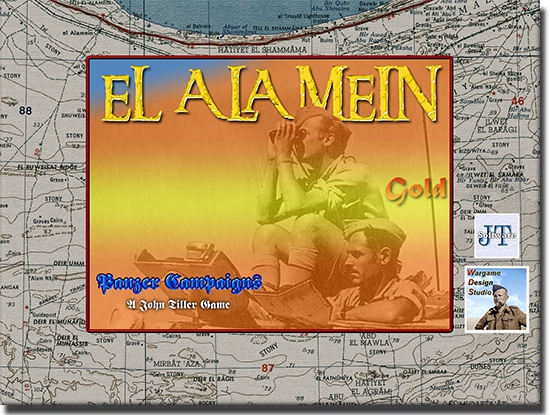 Overview
In the summer of 1942, the Afrika Korps was approaching its high-water mark. In a month-long struggle that began at Gazala, Rommel had defeated the 8th Army and driven the British back to Egypt, once again surrounding Tobruk, a prize that eluded him the previous year. Then in a surprise move, he doubled back, and captured Tobruk in a single day before turning his Panzer Army once again toward Alexandria, Cairo and the Nile. But the British would deny him the ultimate prize with a heroic stand at a lonely, unheard of railway stop known as El Alamein.
Click to Enlarge
Scenarios
34 historically based scenarios
Several "what-if" scenarios including an airborne attack on Malta.
Several campaign scenarios, with alternative versions that include extra forces for one or both sides.
Other scenarios include Ruweisat Ridge, Bir Hacheim, and The Cauldron
A master map measuring approximately 780 x 220 kilometers
Over 3,200 units represent the Axis and Allied forces
Click to Enlarge
Features
Game features include:
Game scale is 1 hex = 1 km, 1 turn = 2 hours, with battalion and company size units.
Order-of-Battle and Scenario Editors which allow players to customize the game.
Sub-map feature allows the main map to be "chopped" up into smaller segments for custom scenario creation.
Multiple play options including play against the computer AI, Play by E-mail (PBEM), LAN & Internet "live" play, and two player hot seat.
New Gold features include:
An additional 46 new scenarios. 33 are from the Ed 'Volcano Man' William's Alternate mod and a further 11 from his Operation Compass expansion pack. In addition, two brand new, deeply researched campaign games by Brian Jennings (Operation Venezia) and César 'Indragnir' Librán Moreno (2nd Alamein) making 80 in total. These include both historical and hypothetical scenarios.
All new game graphics including terrain, in game counters and 2D & 3D units as well as the toolbar icons.
All new sounds.
Game enhancements include revised disruption movement and reinforcement 'place all' function from the First World War Campaign series.
Click to Enlarge
Credits
Scenario Design: Glenn Saunders and Dave Blackburn
Additional Graphics, Getting Started: Adam Parker
Playtesters: Panzergruppe Saunders
Special Thanks: Jason Pethos, for permission to use his "Plan to Invade Malta" map.
Special Thanks: Franco Agostini, for assistance with the Italian Order of Battle.
Gold Release: David Freer with Wargame Design Studio
System Requirements
Windows Vista, 7, 8, or 10
Processor: 1 GHz
Disk Space: 1 GB
Memory: 1 GB
This wargame is for sale at The John Tiller Software Store