Budapest '45 Gold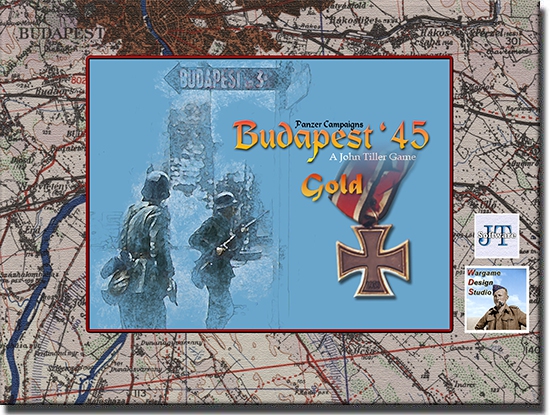 Overview
It was dawn on New Year's Day in the last year of the war. The enemies of the Reich were closing in on both the East and West Fronts. The Germans had squandered much of their last panzer reserves against the Americans at the Battle of the Bulge. In the east, the lines were holding pending the next major offensives by the Soviet juggernaut, and while Stalin continually hounded his generals to finish off the pocket of German and Hungarian troops holding Budapest, the Germans still had another offensive in them. They launched Operation Konrad - an offensive that almost succeeded in relieving the surrounded troops. Can you succeed where the Germans failed?
Click to Enlarge
Scenarios
31 scenarios, including the Soviet prelude to the encirclement launched on 29 October.
Operation Konrad divided into three phases with each phase covered as a separate scenario.
Also included is a historically plausible situation to explore what might have happened had the Germans diverted just one panzer korps from the Battle of the Bulge in the west and instead sent it to Hungary.
Click to Enlarge
Features
Game features include:
Game scale is 1 hex = 1 km, 1 turn = 2 hours, with battalion and company size units.
Order-of-Battle and Scenario Editors which allow players to customize the game.
Sub-map feature allows the main map to be "chopped" up into smaller segments for custom scenario creation.
Multiple play options including play against the computer AI, Play by E-mail (PBEM), LAN & Internet "live" play, and two player hot seat.
New Gold features include:
An additional 30 scenarios from the Volcano Man mods making 62 in total. These include both historical and hypothetical scenarios.
All new game graphics including terrain, in game counters and 2D & 3D units as well as the toolbar icons.
All new sounds.
Game enhancements include revised disruption movement and reinforcement 'place all' function from the First World War Campaign series./li>
Click to Enlarge
File Previews
Here are some files from the game:
Credits
Scenario Design: Joe Wilkerson and Ed "Volcano Man" Williams
Scenario Development and Game Map: Glenn Saunders and Dave Blackburn
Playtesters: Panzergruppe Saunders
Gold Release: David Freer with Wargame Design Studio
System Requirements
Windows Vista, 7, 8, or 10
Processor: 1 GHz
Disk Space: 1 GB
Memory: 1 GB
This wargame is for sale at The John Tiller Software Store